Triton / Manitou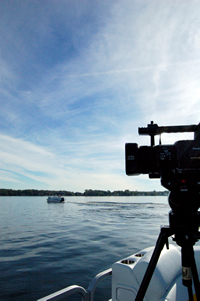 The manufacturer of the popular Manitou line of pontoon sport boats needed to reach audiences who were unable to try out a boat in person—perhaps no dealers are nearby or the season is prohibitive. To support its dealers, Triton wanted to share the excitement of its boats without a potential customer needing to be in the boat physically.
Shot in HD with feature film production values, we produced multiple videos, including a fast-paced look at the entire Manitou line and an exciting and detailed rundown of new models' performance characteristics. Included were the use of customer testimonials, footage of the manufacturing process, 3-D motion graphics, footage shot from helicopter and chase boat, and original music.
The response of dealers, boating enthusiasts and industry journalists was wildly enthusiastic, resulting in dramatic and sustained sales of the new 373 package and two J.D. Power awards for the highest levels of customer satisfaction.