Equipment Rental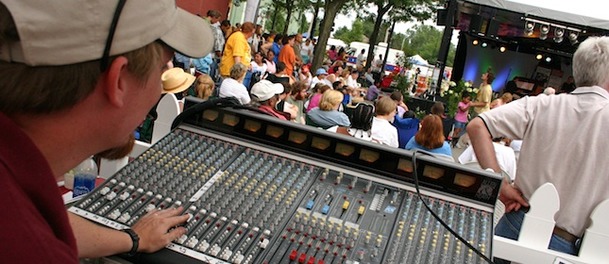 Audio, Video, Crew, and Equipment Rental
We have a wide range of event capabilities, with crew and lighting, staging, staging, communication and audio equipment rentals including:
Projection equipment, including Christie LX100 projectors with flycages and other projectors ranging from 2K to 10K lumens brightness and Da-Lite screens ranging from 32'x8' down to 13'x9'. We have experience with projection on buildings and other special circumstances.
Plasma and LCD displays with stands, ranging from 24" through 42" diagonal. Stand-alone HD playback devices available.
Full-service audio. What does that mean? Experienced crew. Mixers, including the DigiDesign SC48 Digital Console. Speakers, including an Adamson Spectrix line array with amps and subs, EAW top boxes with subs, and a range of smaller powered systems. Shure wireless microphone systems, with both handheld and beltpack transmitters and Countryman headsets available for all beltpacks.
Lighting, including conventional fixtures, intelligent lights, and follow spots.
Versatile rectangular and circular staging systems, including a range of Stageright decks and legs.
Truss, rigging, chain hoists, and ground support. Outdoor stage roof systems.
Executive-style "presidential" glass teleprompter systems.
Wireless Motorola and wired Telex communications systems.
Full-service design and production of on-screen and print elements to support event production.
Access to a broad network of specialty service providers, including musicians, other performers, laser light show production, audience risers, specialty seating, and more.
Studio-style high-definition video camera packages for image magnification (IMAG), with lenses, monitors, multicable, and support equipment.
Skilled crew across all needed disciplines (audio, video, lighting, rigging, management, creative, and more) - staff members with years of experience and proven results.
We also have a wide range of video equipment rentals available, including:
Everything you need for high-definition multi-camera video, including the Panasonic AV-HS400AN switcher, Panasonic cameras with studio controls and monitoring, multicables, and Panasonic AJ-HD1200A VTR for recording.
High-definition video cameras, including the Panasonic AJ-HDC27F Varicam, AG-HPX500 Multiformat P2 Camcorder, and AG-HVX200 Multiformat P2 Camcorder, with lenses, monitors, cinema accessories, grip, and support equipment.
Lighting equipment including tungsten, LED, and HMI-based kits.
High-definition video edit suites, with 8-core Xeon workstations, Final Cut Studio 2, Adobe Creative Suite 5 Production Premium, Cinema 4D r10, Digital Performer, multichannel audio I/O, monitoring, networked RAID storage, and access to a range of patchable interfaces and decks.
Studio space, including an acoustically treated vocal recording booth, and several large multi-purpose video production areas.
Access to a wide range of equipment for other production needs, through relationships with rental houses and other production companies.
Looking for something specific that you don't see here? Contact us – we probably have it.
We are listed on ProductionHUB.com in Directors of Photography - HD / High Def / High Definition in Michigan and Camera Operators / Cameraman - HD / High Def / High Definition in Michigan.