We asked our Creative Producer, Andrew Acciaioli, a few questions about his experience operating our new 360 Spinabooth. 
Q: What is a 360 Camera? Do you know any history behind where this concept was derived from? 
A: A 360º Spinner, or 360º Photo Booth, is a motorized device that you attach a camera or phone to, which then spins around the subject and creates 360º content as they stand in the center.  It's basically a modern take on the traditional photo booth idea, with all sorts of potential for customization and creative concepts.
Q: What are the specs or the cool features of our 360 Spinabooth? 
A: Some cool features of the MessageMakers Spinabooth are the ability to overlay graphics on top of the content.  You could add text or a logo to tag the content with something relevant.
One of our favorite features so far is the slow-mo effect.  This will capture a video in slow motion as the camera spins around the subject, then it will speed it up and slow it down afterward.  It's especially cool with music and fun lighting.
Q: Why do you think 360 cameras have become so popular in recent years?
A: There are so many exciting opportunities with 360º video tools.  Whether it's something like an action camera actually capturing video in a full 360º field of view, or something like a Spinabooth, where a normal camera rotates around someone 360º, both are perspectives we haven't had access to as easily in the past.
Q: When would you recommend a 360 Spinabooth Camera over a regular camera for a client event?
A: A 360º Spinabooth would be a great way to add excitement to a client event.  Participants get to stand in the spotlight, posing for the camera, and then receive the photo/video content as a souvenir from the experience.
Q: Is there any instance when the MessageMakers 360 Spinabooth should not be used?
A: Due to its small base size of just a few feet in diameter, the Spinabooth only works with around three people at a time.  It wouldn't be a good fit for achieving that effect with a large group of people all at the same time.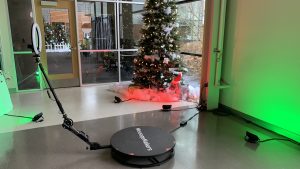 Q: How does the Spinabooth work? 
A: The Spinabooth works by mounting a camera or an iPhone to an arm that comes out from the base.  Then people can stand on the platform, and the camera rotates around them for a few seconds.  Once it's finished recording, the software automatically puts the video together and adds any effects that have been set up in advance.  Then participants can watch the video and choose to have it sent to them via text, email, etc.