During Women's History Month it is important for us to acknowledge and share the stories of women's achievements which are integral to the fabric of our history. For young ambitious women, in particular, learning about the tenacity, courage, and creativity of women throughout the centuries is an important and tremendous source of strength. Until recently, this sphere of women's history was overlooked and undervalued and their achievements were too often distorted, disdained, and even denied.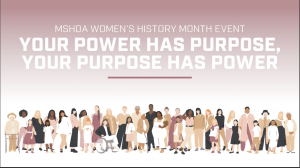 Recently, the Michigan State Housing Development Authority (MSHDA) asked our COO, Tina Miller to be a guest speaker at their Women's History Month Event: Your Power Has Purpose, Your Purpose Has Power.
Tina shared her personal story, detailing some of the struggles she faced as a single mom and entrepreneur on her journey to realizing that her personal power had a purpose. Tina emphasized that over the last century women have gained a voice, a vote, a seat at the table, and a playing field of our own. The specific challenges we face as women, while they do not necessarily define us, play a major role in reminding us that we are just as powerful as men, Tina says. She went on, " Women have strong communication skills, an instinct for figuring things out at a moment's notice when things are hectic around us, a gift for juggling multiple tasks, empathy, emotional intelligence, excellent negotiation skills, and so on".  Not only are these skills vital in helping women navigate their personal lives, but they also happen to be excellent leadership qualities that help women to thrive in the workplace and beyond.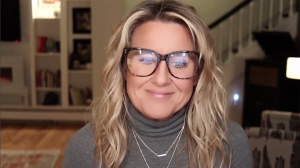 Real power, according to Tina, is about presence, it is about the energy of knowing that you are who you are, combined with speaking it and acting it from an authentic self. She went on, "It doesn't matter what your job title is, when you know who you are and you can speak it and believe it, there is a sense of pride that accompanies that energy". "If we spent the same amount of time pointing out our positive attributes as opposed to our flaws we could reshape our minds to believe we are fully capable of showing up for ourselves more often".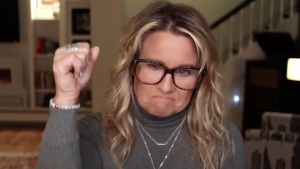 Reminders from Tina on how to own your power as a woman include:
Do something for yourself, and do it often

Find a group you can grow in

Build a successful network of powerful role models

ASK FOR HELP WHEN YOU NEED IT. Here's a little secret from Tina: knowing what you need and asking for it is a power move

Do not let your fears paralyze you, jump in!

Remind yourself of your purpose and commit to it

Have confidence in yourself. When you realize what you are here for, you act differently, speak differently, and walk differently. Get some SWAG!
Tina closed her speech with a quote from Kobi Yamada "Take the leap and build your wings on the way down."