During the pandemic, we have tried to do as much as we can remotely to keep our crew and clients safe. However, there are times that require an in-person shoot in the studio or off-site. To minimize exposure, we've scaled down to a "skeleton crew" which means only the essential crew is on set. We can bring other team members from the client side or our side in remotely.
On set of these in-person shoots, we take all the necessary precautions to keep everyone safe, such as getting a covid test beforehand, wearing double masks and a face shield, social distancing, health screening forms, several sanitization stations throughout the building, a boom mic so we don't have to have direct contact to get quality audio and sanitizing everything down in between clients.
We sat down with Andrew Acciaioli, MessageMakers Video Editor, who is typically the videographer and editor on a lot of our client projects. We asked him what his favorite part about being on set is and to describe the different roles on set, including what he does.
"My favorite part about being on set is once people are warmed up to the camera," said Andrew. "It's exciting to see people open up and watch the authenticity unfold. Those end up being the best parts of the projects once they're completed."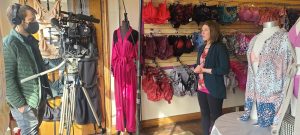 As far as the people on set, let's start with the Producer and Director who, in our case, are usually the same person. "This person is in charge of the entire production as well as working with the client to talk about goals and translate those goals into their desired outcome," said Andrew.
Then, of course, there's the Cast and Crew (if needed). This includes talent... basically, the people in FRONT of the camera. "For most shoots, we do story driven interviews," said Andrew. "However, sometimes we cast actors to play the roles depending on what is needed in the script."
Next is the Videographer and Director of Photography which is also usually the same person. This person is in charge of all things camera, creating visuals, angle and lens decisions as well as controlling and sometimes even setting up lighting.
The Gaffer is in charge of setting up and adjusting the lights and other tools that shape lighting. For us specifically, having a gaffer on set has been rare during COVID-19.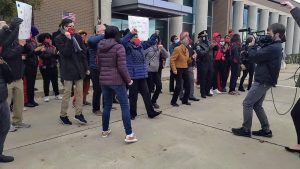 "For most of our work, I run the camera, lighting, and audio," said Andrew. "I've worked in the past as just an audio mixer, a gaffer, and other roles on set, but being behind the camera is my favorite. I really enjoy being right there to capture the moment and help support the vision and goal of the client."
There's also a Sound Mixer/Boom Operator on set. Sometimes sound is just controlled by a camera person. Other times, it's controlled by a separate person with separate audio which is mixed with video after production.
"The sound mixer sets people up with microphones," said Andrew. "Pre-covid, we used LAV microphones but recently, we've been using boom microphones which go overhead so it doesn't touch anyone. This way, we can be a lot farther away and practice social distancing as needed."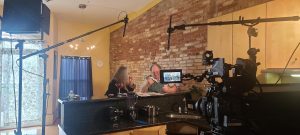 Of course, the Hair and Makeup Artist does hair and makeup for talent, touch ups throughout the shoot including special effects tailored to the video shoot. Andrew explained how this is especially needed under the bright lighting we use to get the best quality video.
Next, the Wardrobe, Props, and Set Design is sometimes done by the producer on smaller productions. However, on larger productions, it can be a separate person or team finding what talent is going to wear, what props talent is going to hold and what the scene surrounding talent will look like.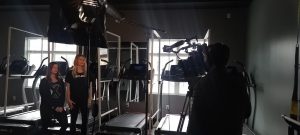 The Production Assistant is a general helping hand on set with numerous tasks such as loading equipment, holding boom microphones, being a teleprompter operator and helping with camera/audio.
After the shoot is complete, the footage is handed over to the Editor and the editor uploads all the raw files and then gets to work. Sometimes there are several rounds of rough drafts presented to the client for feedback or edits before the final piece is sent to them.
"The editor shapes the story," said Andrew. "Once the basic story is approved by the client and the producer, the editor will put the final finishing touches." We love exceeding the expectations of our client. As Terry Terry, President of MessageMakers would say, "We make people cry, laugh and imagine."
It definitely takes a skilled creative team to make all of this happen.