We recently completed virtual event design, planning, pre-production and live-stream production for Access for All 2020. Structured with a mix of live and asynchronous activities across 2 weeks in October, AfA2020 was a virtual conference dedicated to using plain language to break down barriers in society, improve the criminal justice system, protect the rights of vulnerable populations and affect the outcome of COVID-19.
Access for All is a nonprofit working to improve people's access to information and services with plain language. At the conference, there were over 300 participants from the U.S. and around the world, 50% of whom were first-time attendees to a plain language conference, with about 75% of them saying the virtual offering was a major factor in their decision to attend.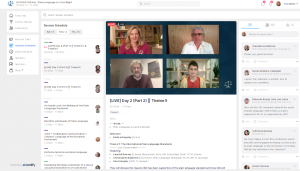 The conference platform allowed for live and pre-recorded video, networking, Q&A, and more, on both desktop computers and mobile devices. Together, conference attendees streamed over 4000 viewer-hours of content, including 3 days of live sessions, 35 pre-recorded keynote speakers from 20 different countries, related presentations, 8 live sessions from around the world, and a virtual awards show.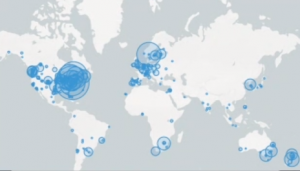 MessageMakers produced the show using a combination of live streaming technologies:
Back-end live video systems, pulling in 24 remote video callers over the course of the conference, plus many more presenters for pre-recording.
A remote studio setup for the host, built in her home.
Remote teleprompting, switching, playback, and backstage "Green Room"
A video distribution system (Vimeo Live) and interactive platform (Attendify) both seamlessly connecting the global audience to the conference experience.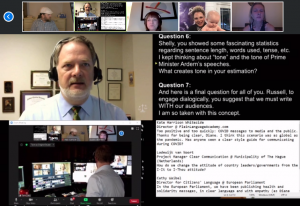 The conference explored five major themes:
PLAIN LANGUAGE AND OUR RESPONSIBILITY TO ENSURE ACCESS FOR ALL. COVID-19 and BLM have dominated the headlines of 2020. But the deeper story is one of access. Who has it? Who needs it? How do we get it to everyone? As practitioners, we have a responsibility to increase access to information, to justice and to health care.
USING PLAIN LANGUAGE TO IMPROVE THE CRIMINAL JUSTICE SYSTEM. Navigating the legal complexities in the criminal justice system is no easy task, and those who don't have access suffer. We heard from those who have used plain language to improve access to justice.
USING PLAIN LANGUAGE TO PROTECT THE RIGHTS OF VULNERABLE POPULATIONS. Not every vulnerable population experiences the same barriers. We must consider all vulnerabilities and look for the most appropriate plain language tools and techniques. Throughout this conference, we learned about different populations and the different projects that can help protect their rights.
CELEBRATING WHEN PLAIN LANGUAGE SUCCEEDS. The 10th anniversary of the U.S. Plain Writing Act International Plain Language Standards A Country's Plain Language Story Clear Mark Awards took place.
AN INTERNATIONAL CASE STUDY: USING PLAIN LANGUAGE TO AFFECT THE OUTCOME OF THE HEALTH CRISIS COVID-19. We explored the variety of ways public officials have discussed COVID-19 and how their style of communication has impacted public health—for good or for ill. We watched the Center's first COVID-19 Awards.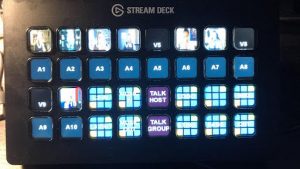 Thank you to all the participants and all those who helped with the production and success of this virtual event! If you'd like to learn more about the Plain Language movement, please check out Access For All's upcoming May 2021 Conference.