Let's take a look at last week's MessageMakers highlights!
First, a quick message from our COO, Tina Miller.
"Thank you to everyone for the work that you do throughout the week from home. I understand that it is challenging sometimes. You have your kids, grandkids and animals waiting for you to be done with work. Some of you are juggling quite a bit, from teaching kids at home to dealing with the overwhelming uncertainties of tomorrow. I know for a lot of us, the work rarely shuts off and we feel like we are at it for 12 hours a day. I know we have lost a sense of our old routine and we are still trying to find some kind of new routine, just long enough for it to change again. Just know that you are appreciated, thought of and important." - Tina Miller, COO
Now, let's see what our MM Team has been up to this past week.
Kim, our Government Contracting Specialist, has been making home-made masks for those in need, including about 100 CATA bus employees and employees at the nursing home that her mother lives in. Kim says, "It gives me a way to help others who have to go out in public but are fearful because they don't have a mask." Way to go, Kim!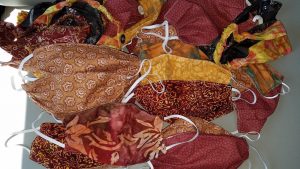 On Friday, we had a virtual pizza party on Skype and it was definitely a success!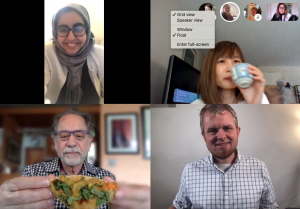 Sophia's cat, April, even joined us!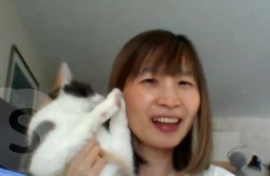 ...and the Cookie Monster!

We also have a running live-stream at our office front desk so we can see our office cat, Kiwi, while we are all working from home!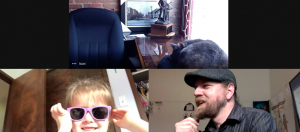 We are still holding virtual Town Hall's for the Michigan Census Bureau 2020! #BeCounted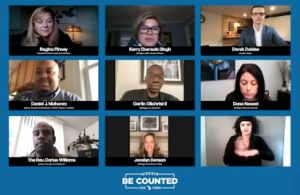 Attorney General, Dana Nessel, had her cat waive to the viewers during the Jackson Census virtual Town Hall!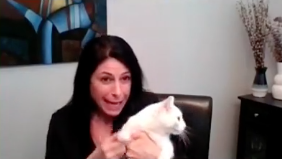 Rob and Tom are working harder than ever, adapting to these virtual times! Thank you, Rob and Tom!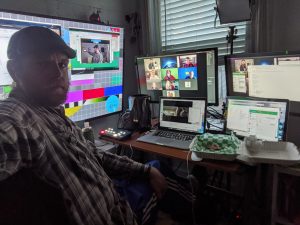 Subscribe to our blog to stay updated on everything MM!