This past Thursday, we hosted our second free webinar called Slides and Supporting Visuals for Live Streaming Video. If you missed it, watch the replay here!
This time is all about thinking outside of the box and maybe even getting a little bit out of your comfort zone when it comes to your professional life. I'm sure by now we've all set up our laptops, our home office (even if it's the kitchen counter), our designated spot for Zoom meetings and our work from home routine. It's important to keep doing our part to build community.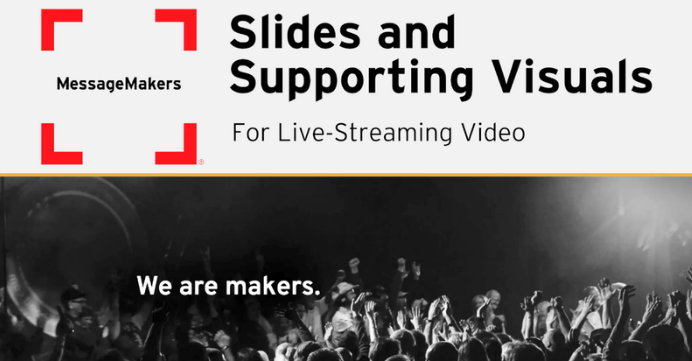 We have been working with Gud Marketing on 2020 Town Hall Meetings for the U.S. Census. In order to be able to communicate the message of "Be Counted Michigan 2020" to the people, we took the meetings to the virtual world. Viewers can type now in their questions on Facebook live and still participate virtually in the meetings. It's exciting to work with others on modifying how we do things in a new way.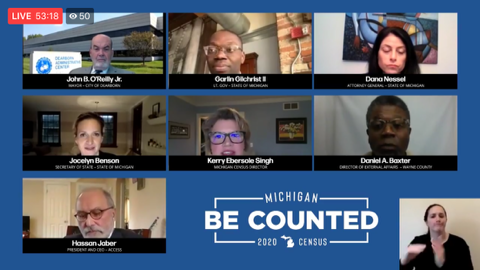 In our webinar, Rob Sumbler (Director of Photography and Video Producer) and Tom Lietz (Chief Creative Officer) gave some advice for how to make your visuals look good in a webinar or a live stream, regardless of tools you have available.
Show yourself. We can all do things to be present, starting with turning on our camera!
Bring it to life. Make your visuals interactive to cause people to pay attention and reinforce your content.
Get big and get bold. Make your graphics pop with big text and even a small animation.
Embrace your limitations. We're all making the most of what we have!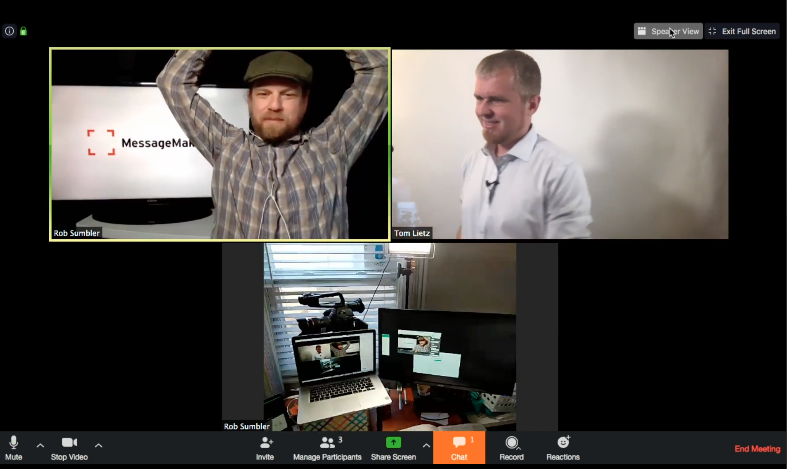 Rob showed his set up at his home office with multiple laptops, a monitor, cameras and a light that can be purchased for about $40 on Amazon (even though shipping may be slow at this time). Another option for good lighting would be a ring light, also available on Amazon.
You can use "screen share" to show your slides and presentation during your Zoom meeting, video call or webinar. Screen share does better with still images, test and quick animations than with full motion video. With rolling video of 2 minutes or more with people talking and things moving, the quality doesn't come across well over screen share.
For longer and full motion videos, we use relay switching workflows, such as what we do for the town hall meetings. We use OBS or Open Broadcast Software, which is a free open source software. This allows us to do a lot more with our video streams.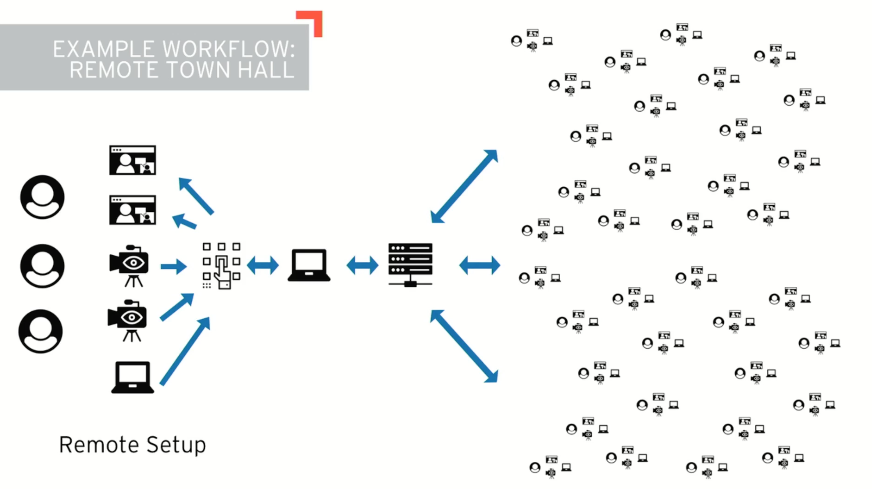 For these town hall meetings, we use a combination of OBS and a physical switcher to bring in live video easier. This workflow starts with all presenters on individual devices then goes to a streaming server which goes into our switcher. We then add in graphics and other elements, such as roll in videos, that we know don't work too well over screen share with a lot of different popular software. It then goes to broader audience, while we manage quality and make sure people stay connected.
We want to share as much as we can with you regarding our process. We are available to help with all things creative and technical to meet your needs. If you are trying to host a live stream or webinar and want to throw up some visuals, ask us for your help! To schedule a meeting with Rob, click here. To schedule a meeting with Tom, click here.
Stay healthy!