This past October, MSU Broad College of Business celebrated the 10th Anniversary of the Executive Leadership for Women: Strategies to Enhance Success program where female business professionals with generally 8-18 years of experience gather to discuss topics as businesswomen in today's workplace.
Together, MessageMakers and MSU Broad are working to highlight the authentic stories of participants and the background of how this program got started. We want to share the experiences that demonstrate the holistic value and uniqueness of this event.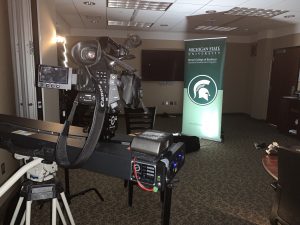 The program, founded by Erin Wolf and Julie Fasone Holder, focuses on highlighting the accomplishments of great women, showing the importance of diversity and inclusion and inviting future executives to come back and visit.
Here, women learn how to apply leadership skills, find their executive voice, understand real and perceived gender differences in the workplace, create a personal brand, build a professional network and negotiate deals to create value for themselves and their organizations.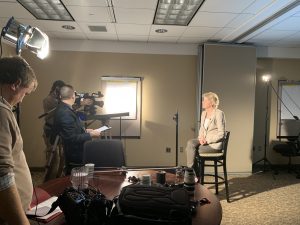 Erin Wolf is a nationally recognized speaker, executive coach and consultant in the areas of leadership development, organizational change and organizational strategy. As one of the founders of the program, Wolf talked to us about how important it is for women to give back to other women. She explained how she got this program started, the unwritten rules of the workplace and the norms of the workplace.
"It's as if women are the rookies coming on to a field for a game that's been played a long time without them," Wolf said as she discussed the unique challenges and opportunities that women face in a professional setting.
It's always special for us to collaborate with organizations such as Broad at MSU, as many of our team members here at MessageMakers are MSU alumni.
The program is organized into two modules with multiple different topic discussions and networking sessions. Module 1 was from October 23 - October 24, 2019 and Module 2 will be November 21 - November 22, 2019.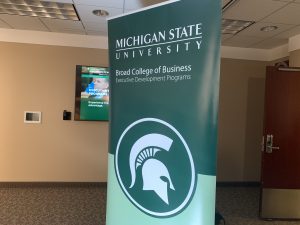 Stay tuned for the video!
For more information about the program, go to: broad.msu.edu/executive-education