This past December, the Arts Council of Greater Lansing awarded MessageMakers President, Terry Terry, with the 2018 Creative Community Award. This award recognizes those who have spearheaded creative placemaking, supported culture and advocated for creativity in the Greater Lansing area. Recipients of this award have contributed in some way to the creation of vibrant and thriving places through their leadership and hard work.
Terry was recognized for this award due to his important role in transforming Lansing's Old Town into a nationally recognized art community. In the 1980's, when Terry moved into Old Town, it was a run-down and neglected part of the city. He helped form the non-profit arts organization, Michigan Institute of Contemporary Art (MICA), and led revitalization efforts that transformed Old Town into the vibrant, artistic community that it is today.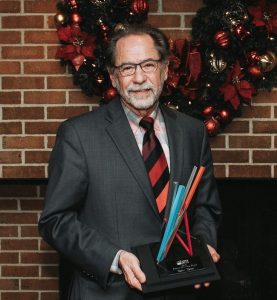 Terry Terry with the 2018 Creative Community Award
In 1994, through this small non-profit, MICA, and with the support of his company MessageMakers, Terry created the Old Town music festivals. The Lansing JazzFest and the Michigan BluesFest have been running annually and drawing talented musicians and thousands of spectators for over two decades.
Terry also founded the MICA Gallery (formerly known as the OtherWise Art Gallery) and has recently opened up a modern event venue right in the center of Old Town called UrbanBeat which features live music performances.
Upon accepting his award Terry stated, "From the beginning, we chose to serve as a catalyst for community development by providing quality arts programming. I'm delighted to have played a role in this. We strive to create an open space in our community where people can come together, meet old friends, make new friends and in the context of the arts, have conversations about how we can make our community better."