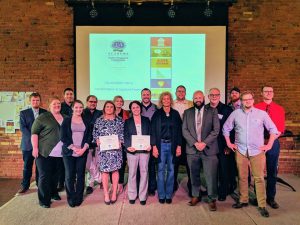 The MessageMakers team is always thrilled to take on new learning opportunities to evolve and hone their skill sets as much as possible. Continuous learning is key to personal growth and success, that's why MessageMakers President, Terry Terry, thought it to be essential for the team to participate in the Capital Quality and Innovation Academy. Being a graduate of the program himself, Terry strived to give his employees the enriching experience of professional training at CQI as well.
The Capital Quality and Innovation Academy, newly named the Institute for Quality and Innovation (IQI), is a valued resource for professional development in quality, innovation and leadership. IQI provides professionals with valuable tools to better execute their jobs, improve decision-making skills and contribute to the success of their companies. For more information about the IQI, visit their webpage at https://www.qualityandinnovation.org.
Four members of the MessageMakers leadership team were able to participate in the IQI Academy thanks to a generous grant from the Michigan Works' The Going Pro Talent Fund (formerly known as the Skilled Trades Training Fund). The talent fund awards grants to employers to assist in training, developing and retaining employees. It advances Michigan talent and ensures that employees have the skills and knowledge they need to succeed in today's workforce.
Going Pro Talent Fund Statistics
Between 2014 and 2018, 2,234 companies have received awards. The average amount of the award was $32,068 with the average training cost per employee being $962.
Size of Companies Receiving Awards: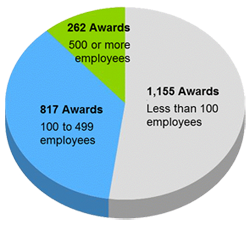 Source: https://www.michigan.gov/wda/0,5303,7-304-64365_64538-312972--,00.html
MessageMakers looks forward to searching for additional growth opportunities using the Michigan Works' Going Pro grant for continued professional development.
A big congratulations to Tina Miller, Rick Weaver, Tom Leitz and Rob Sumbler on their graduation from the IQI Academy!