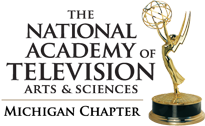 MessageMakers was given the great honor of receiving a Michigan Emmy nomination for their work on the 2016 documentary, Second Shift: From Crisis to Collaboration. They were nominated in the category for Best Documentary - Historical.
President and Executive Producer, Terry Terry, along with Director, Tom Lietz, and Director of Photography, Rob Sumbler, attended the 36th annual Emmy Awards of the National Academy of Television Arts & Sciences on June 18, 2018.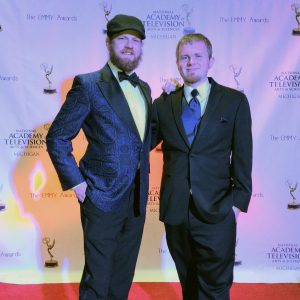 Rob Sumbler (left) and Tom Lietz (right) at the Michigan Emmy Award Ceremony
Second Shift: From Crisis to Collaboration tells the compelling story of how the city of Lansing saved itself in the early 2000's. When GM was prepared to leave Lansing, leaders of the community convinced them to invest billions instead. The documentary follows the successful regional collaboration that created a "second shift" for a community in crisis. It's an inspirational story of communities coming together for the future of the city. The trailer for Second Shift: From Crisis to Collaboration can be viewed here: https://vimeo.com/106324479.
Over the last 39 years, MessageMakers' effort and dedication to their productions has been recognized in their 120+ awards. Second Shift is an excellent example of the outstanding work MessageMakers does for their clients on a day to day basis.