As part of the celebration of 35 years of MessageMakers, we're telling the stories of 35 great projects throughout our history. This is one of them.
X-ray of a knee replacementThe greater Lansing area is unusually blessed with medical resources as home to three medical schools (Michigan State University's College of Human Medicine, College of Osteopathic Medicine, and College of Veterinary Medicine) and two separate hospital systems (Sparrow and Ingham/McLaren).
To make it easy for students at MSU's two schools of human medicine to move seamlessly between the hospital systems and have residents' human resources needs met, Graduate Medical Education Inc. (GMEI) was formed.
In 2007, GMEI approached MessageMakers to create some recruiting video for this program. MessageMakers produced a one-minute video overview ("Why Mid-Michigan?") and a 12-minute video DVD ("There Is Something for Everyone in Lansing, MI") to introduce graduate medical students to the cultural, educational and employment opportunities offered by the regional community.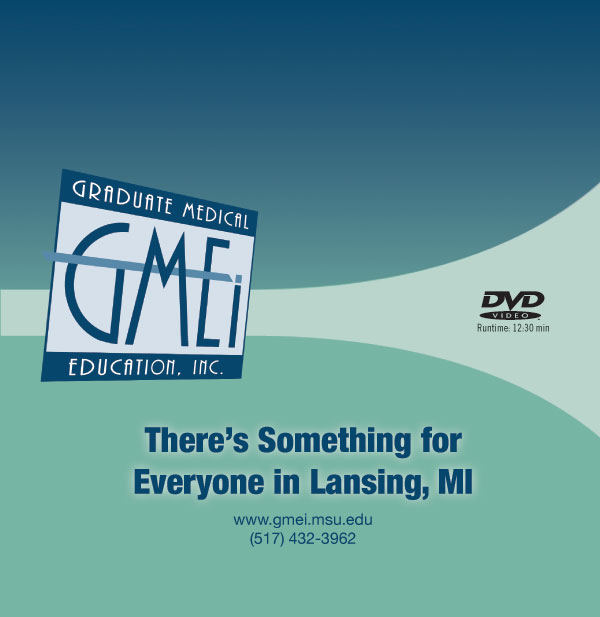 Simple cover art for GMEI video DVD sleeve"We got to go through the local hospitals here and meet a lot of residents of the medical program at MSU," explains Rick Weaver, videographer.
And the video coverage went beyond talking heads and environmental shots.
"For this video I got to scrub in to a knee surgery," Weaver explains. "It was pretty cool watching—scrubbing in, putting on scrubs, getting in there, mic'ing up one of the surgeons, and listening to her talk through [the surgery] with the doctor. I still remember, as she's pulling on some of the guy's cartilage, she says, 'Ah, that's really spongy.'"
As we produce video, we are prepared and looking for unexpected opportunities to build production value—and carrying field production gear to allow us to work with those opportunities. This practice came in handy.
Weaver tells us that, "As we were walking through, before we got to that guy's surgery room, the people we were walking around with pointed out to us a room where the door was closed, but they had up on a huge monitor open heart surgery. So I got to see, basically, them performing open heart surgery through a monitor through a door. It was pretty interesting.
"Working with a camera definitely gets you into a lot of places that I never would have been walking around."