More great Addy news! The Mid-Michigan Addy Awards recognized 7 Million Pounds, a video produced by MessageMakers to promote donations to FoodBank of Monmouth and Ocean Counties, New Jersey, with a Silver Addy award for creative excellence at its annual dinner and awards presentation last Thursday.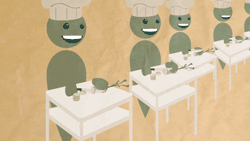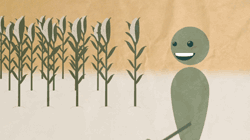 "The FoodBank wanted a video to show at their annual fundraising event to serve as a call to action," explained animator Tim Whalen, "and having seen some cool infographic-style animations, they wanted to try something in that vein."
"It was very gratifying to see 7 Million Pounds win an Addy," said scriptwriter Matt Penniman, "in part because we were trying to do something fairly different with this video. How do you make a pile of statistics about a food bank into something exciting? We decided to approach it as a visualization exercise: first, visualizing and representing the size of the problem by showing the trade-offs that FoodBank patrons have to make in their daily lives, and then visualizing the scale of the solution—the number of meals that the FoodBank provides on a regular basis."
"MessageMakers had worked with the FoodBank the year before to develop a video with a personal narrative storytelling approach that builds awareness and understanding of who they are and what they do," said producer Tom Lietz. "This year's video approach brings numbers to life, sharing the scale of need and the FoodBank's impact on the community, drawing comparisons grounded in real-world, everyday things. We were also able to use a little of the real-world footage collected last year to put a human face on the needs being met."
The ADDY® Awards is a three-tiered national competition conducted annually by the American Advertising Federation, honoring excellence in all media including print, broadcast, out-of-home and public service advertising. The ADDY® Awards is the advertising industry's largest and most representative competition for creative excellence. The Mid-Michigan Addy Awards is sponsored by the Mid-Michigan Creative Alliance (MMCA), a member association comprised of advertising and media professionals. Proceeds from the ADDY® Awards help support MMCA's educational programs, public service projects and proactive government relations efforts.
The FoodBank of Monmouth and Ocean Counties, New Jersey serves over 260 pantries, soup kitchens and other feeding programs with almost 7 million pounds of food distributed annually. Since its start in 1984, the FoodBank has been working to make Monmouth and Ocean Counties a food secure community where all people at all times have access to enough nutritious food to maintain an active and healthy life. With the help of roughly 1,000 volunteers each year, the FoodBank's programs are truly a community effort, working to eliminate hunger by providing emergency food, skills training, outreach programs and advocacy for families in need. For more information, visit www.foodbankmoc.org.