Ian Busch, MessageMakers videographer and video editor, took some time to talk with me this week about his latest side project. Ian is already an award-winning independent filmmaker in his own right. More recently, he's finished his first software application, Interactive Sketchbook for iPad.
"My brother [illustrator Matt Busch] did a series of You Can Draw Star Wars videos that I helped with," says Ian. "The response was so great that It got me thinking about how we might be able to monetize it so that we could keep doing it. When the iPad was announced, I knew I finally had my answer. The idea came to me within hours of the announcement. Once my brother and I agreed that it was a good idea, it was only a matter of how, not if. I had to make a lot of things happen for this application to be born. I had to incorporate my small company in order to be approved by Apple. And I had to hire and work with two programmers and three graphic artists before I found the right team that could make Interactive Sketchbook a reality."
Apple's own functional minimalism was an inspiration for the design of Interactive Sketchbook.
"I switched to Mac computers when I was studying video production in college, and I was surprised by how good the interfaces were and how easily things just worked," Ian continues. "I've always been into video games, software and computers. Because of my interest in those topics I already had a lot of concepts in my head about what makes a good or bad game or piece of software, and I find Apple's own guidelines about user interfaces to be fascinating.
"We decided to make the app with the fewest buttons and options possible. The goal was to limit the tools so they didn't get in people's way. It can be intimidating and overwhelming to have too many tools at hand—you don't know where to begin. So 50 brushes or pencils might cause you to use all your creative energy picking the right tool and setting. But on the other hand, if someone just hands you one pencil, you'll start sketching."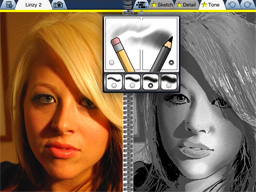 The program isn't exactly the digital equivalent of a single pencil. Maybe the 3-5 that you would actually use.
The program enables the use of a photo reference that artists have used for ages to ensure that proportions are exactly right. You can trace right over a reference image or keep the photo reference to the side to ensure that you use it faithfully.
The app uses its 3 layers to keep tools simple. Sketch is great to play around in, or it can be used for the initial reference lines and curves that an illustrator might use to build and plan—and then this layer can be removed from the final sketch, leaving a clean image. Detail is for more detailed lines, offering four tones ranging from white to black. Tone allows for smooth shading you might do on paper by smearing pencil with your finger.
You can draw with your fingers or the program works well with an iPad stylus. (The science behind how this works is fascinating. Your personal electricity is conducted through the metal stylus and is detected by the iPad.)
"We were trying to replicate the sketchbook process, allowing people to create detailed portraits and sketches without having to buy and carry sketchbooks again—if you have your iPad with you, you're set. We've tried to utilize the iPad to its fullest with our drawing engine technology, and it's only gotten better with the iPad 2. You can create and share an artistic, organic, good-looking image, whether you're a professional illustrator or an amateur artist.
"As an amateur, sometimes I've abandoned art because it's frustrating to create. The simple 'undo' feature keeps you from ruining a great image with one bad line."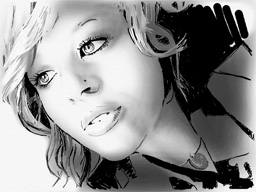 The app is also great for amateurs for its drawing tutorials, crafted by famous illustrator and drawing instructor Matt Busch.
The app is a Michigan-based venture, Ian explains. "Our programmer is from Rochester and our artist is from Macomb Township, but the rest of us are from the Lansing area. This is a very local project."
It is also a project rich with MessageMakers talent. Tim Whalen, senior graphic designer, created the design for the website; writer and web designer Matt Penniman put that design into code.
After playing with the app for an hour, I found myself wanting an iPad of my own to create art with.