The 48/5 is a videographer holiday around these parts.
In East Lansing Film Festival 48/5 Film Contests, filmmakers write, shoot, edit and premiere an original five-minute film in only 48 hours. Teams are given three specific elements (a prop, a location and a line of dialogue) they must incorporate into their finished film, and each team draws a genre (comedy, drama, horror or action) from a hat. Finished films that meet the deadline are judged on how well they incorporate these elements.
This competition's elements: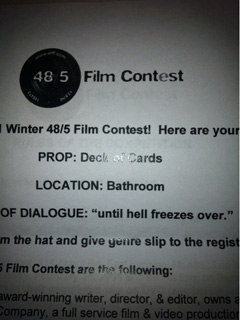 This time, MessageMakers staff split off into two teams: the Big Foot Films team and the Tell Stories team. Both teams drew the genre "drama." (Check here later for take 2, the Tell Stories story.)
Adam Cate, field and studio sound recording, notes that "This year we decided to take a risk and do a 1930s period piece. It had its challenges, but the team worked great together finding appropriate costumes, make-up and locations to make it look legitimate."
Evan Jorgenson, prop and costume manager, gives many thanks to Uniquely Yours Costume Rental Service for their help. "Over 90% of their costumes are homemade and the film would have never come together without their generosity and expertise."
"Our team is finally starting to click on all cylinders," says vice president and senior editor Rick Weaver. "Everyone knows what needs to be done to create the best possible piece in such a short time constraint. The gel and the mold is set on Big Foot Films, and we're extremely excited to see where our next project will take us and our fans."
Actress Jesse McLean agrees. "It is a rare opportunity to get to work with so many extremely talented individuals in one weekend. But it is even more amazing to get to work with such creative and imaginative people and have it still feel like such a team. There never once felt like a hierarchy. If anything, we felt like one big family. We had a ridiculously good time putting this film together."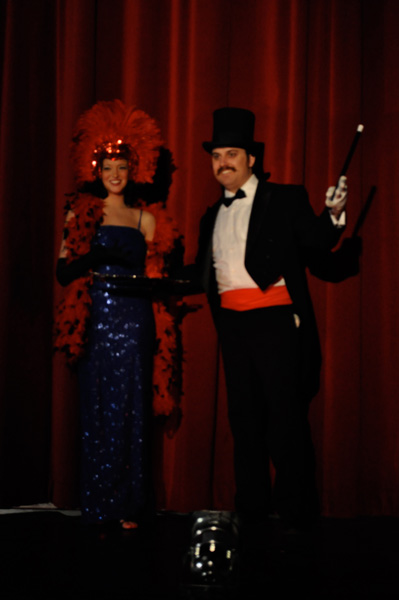 Adam notes another first: "For the first time we had the score being composed on site as the editing was taking place. It really added to the whole post production experience and made it much easier communication wise when the composer [Brad Snider] was able to see what Rick was doing and vice versa.
Meanwhile, we the fans got to hear about the experience throughout. Actor Tim Whalen notes that "We used social media this time to not only help promote our film but to chronicle the process via our Big Foot Twitter and Facebook accounts. All of our team members had access and were posting all weekend."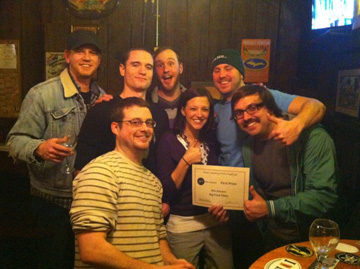 Without further ado, enjoy The Encore, announced last night as winner of the 1st prize in the Winter 2011 48/5 Film Competition.
[youtube https://www.youtube.com/watch?v=W5d8WtP9F7Q&w=560&h=315]