Last night, we celebrated the Old Town Stomp, a fundraiser to support Michigan Institute for Contemporary Art's music festivals. Great party, great music, standing room
only.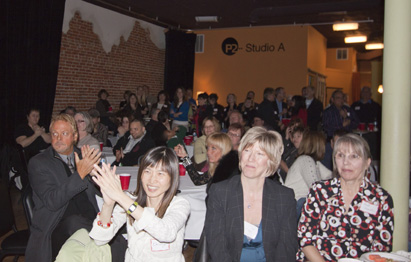 Part of the fun was the presentation of the ii:V:I Community Turnaround Awards.
ii:V:I is a chord progression that provides an underlying structure allowing musicians to improvise together. Michigan Institute for Contemporary Art presents the ii:V:I Community Turnaround Awards to those who support creativity, the arts and community in Old Town Lansing.
We were thrilled to see Rebekah Cathey honored with the "Go-To Award." As our office manager, she's our go-to person, too.
Everyone in our office ends up involved with local festivals somehow, since we heavily sponsor them. But even for us, Rebekah is a big festival supporter, volunteering with Lansing JazzFest, Old Town BluesFest, Mosaic Music Festival, Festival of the Sun, Festival of the Moon, Old Town Oktoberfest, Old Town Dickens Village, Chalk of the Town, Scrapfest, and Caribbean Festival.
"Volunteering is a very rewarding experience," says Rebekah. "I love working on the variety of tasks that somehow end up coming together to make a huge and wonderful event. Pausing to look around at the event and seeing all the people enjoying themselves and knowing I had a part in making that happen is internally gratifying."